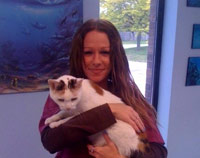 Veterinary Technician
My name is Tammy. I have been working at Mavis Road Animal Clinic for nine years now. Prior to working here at the clinic, I actively volunteered my time with several different feline rescue groups. Fostering cats and assisting in finding them their new homes.
I find true joy in sharing my life with animals and it is such a pleasure to come into work every morning and be greeted by a variety of different pets.
I have recently opened my own feline rescue group called "Tammy To The Rescue". Sometimes the cats are surrendered to me from families who can no longer care for them but most of the cats I rescue are feral homeless cats living outside. I live trap the cats, treat them for parasites and then vaccinate and spay or neuter them. When they are healthy and socialized, I find them new homes with families who will love them and give them a second chance at life.